Martins received this month the award of the 63rd place of best company to work in Brazil. Recognition was made by Great Place to Work, which conducted qualitative and quantitative surveys with employees and managers of 2.280 companies before reaching the top 150 ranking, divided among 80 large, 35 national averages and 35 multinational averages.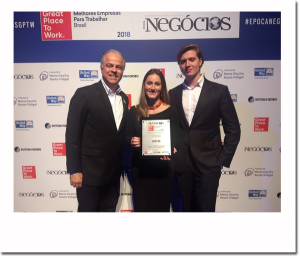 The Best Companies to Work 2018 were unveiled this Monday (08/13), during an event for 1.500 people at Espaço das Américas, in São Paulo.
Much has already been done and there are still infinite possibilities to move forward, in the certainty of offering our employees a
reliable work environment where people can feel happy and productive. In the year we have completed 65 years of history, being among the
80 best is a positive milestone and a great gift to all of us!