Minas keep on celebration! On June 25th, the Great Place To Work Institute (GPTW) announced the 2017 rankings of the best companies to work in Minas Gerais, announcing Martins in 6th place in large companies' category.
It's a great commemoration as we are moving from 10th place in 2016 to 6th place in 2017. The award is a recognition of the team's work that believe that the improvement of the work environment has the capacity to generate concrete results for the organization.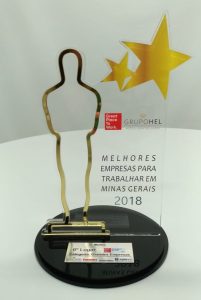 Congratulations to all of you!
Sobre a GPTW
GreatPlacetoWork® é uma empresa global de pesquisa, consultoria e treinamento que estimula as organizações a identificar, criar e manter excelentes ambientes de trabalho por meio do desenvolvimento de culturas de alta confiança.
About GPTW
GreatPlacetoWork® is a global research, consulting and training company that encourages organizations to identify, create and maintain excellent work  environments by developing high trust cultures.
GPTW is present in 57 countries and in the 2017 edition of the Best Companies to Work survey, it has 8,000 companies worldwide, representing more than 12 million employees. The national edition was attended by 2000 companies.
The research, conducted every year, is based on the evaluation of the level of trust of employees in five dimensions: credibility, respect, impartiality, pride and camaraderie. The big business category ranking evaluates companies with 1000 or more employees.Below, you can check 2017 ranking, wich was elaborated with information collected in the research applied in 2017.
1.  Banco Mercantil do Brasil S/A
2.  Algar Telecom
3.  Novo Nordisk Produção Farmacêutica do Brasil
4.  Centro Universitário Una
5.  Aperam South America
6.  Martins
7.  Uberlândia Refrescos
8.  Grupo Zema
9.  Unipam
10.  Centro Universitário UniBH
11.  Algar Tech
12.  Bretas
13.  Usina Coruripe
14.  Localiza
15.  3corações